Fine digital anatomy

A large number of orthopedic planning cases

A large number of histology and pathology libraries

Previous national examination questions

Multi-person real-time online examination system
Rich and unique teaching content
Asclepius provides 4 major software, including 4 anatomical figures, of which 2 anatomical figures have been finely segmented, each with more than 5,000 detailed models, and provides detailed introductions. More than 400 orthopedic cases for surgical planning exercises.
More than 1000 HD textbooks of histology and pathology. It also provides more than 14,000 exam questions from NCLEX and Taiwan Nursing National Examination over the years, and it is continuously updated.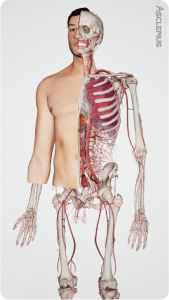 Virtual Dissection Tool for Detailed 3D Anatomy Rendering
Users can accurately observe detailed human anatomy on the Asclepius digital dissecting table. Reconstruct individual structures in precise 3D, enabling an unprecedented level of true anatomical accuracy. The life-size display interactive experience allows for unlimited dissections and supports restoration of previous dissections. Asclepius explores and learns about human anatomy beyond what any general can offer.